Our Commitment to Community Service
A profound commitment to community service lies at the heart of our values and ethos at HMB Professional Engineers. As a leading engineering firm, we believe in using our expertise and resources to make a positive impact on the communities we serve. Our dedication to community service extends beyond the realm of engineering projects, as we actively seek opportunities to give back, support local initiatives, and engage in charitable endeavors. Through our collective efforts and a strong sense of social responsibility, HMB strives to build stronger, more resilient communities, leaving a lasting legacy that goes beyond the projects we engineer. Here are just a few recent examples of projects and giving opportunities we support:
Eastern Kentucky Flood Recovery
In August of 2022, Eastern Kentucky was devastated by severe flooding resulting in both significant individual property loss, and public infrastructure damage. HMB's structural engineers answered a call for support as part of the recovery effort applying their specialized training in bridge safety and design to inspect bridges and culverts throughout Letcher County, KY. Determining the safety conditions of these bridges and other infrastructure was a critical first step in the disaster recovery effort allowing critical services and supplies to safely flow into the region.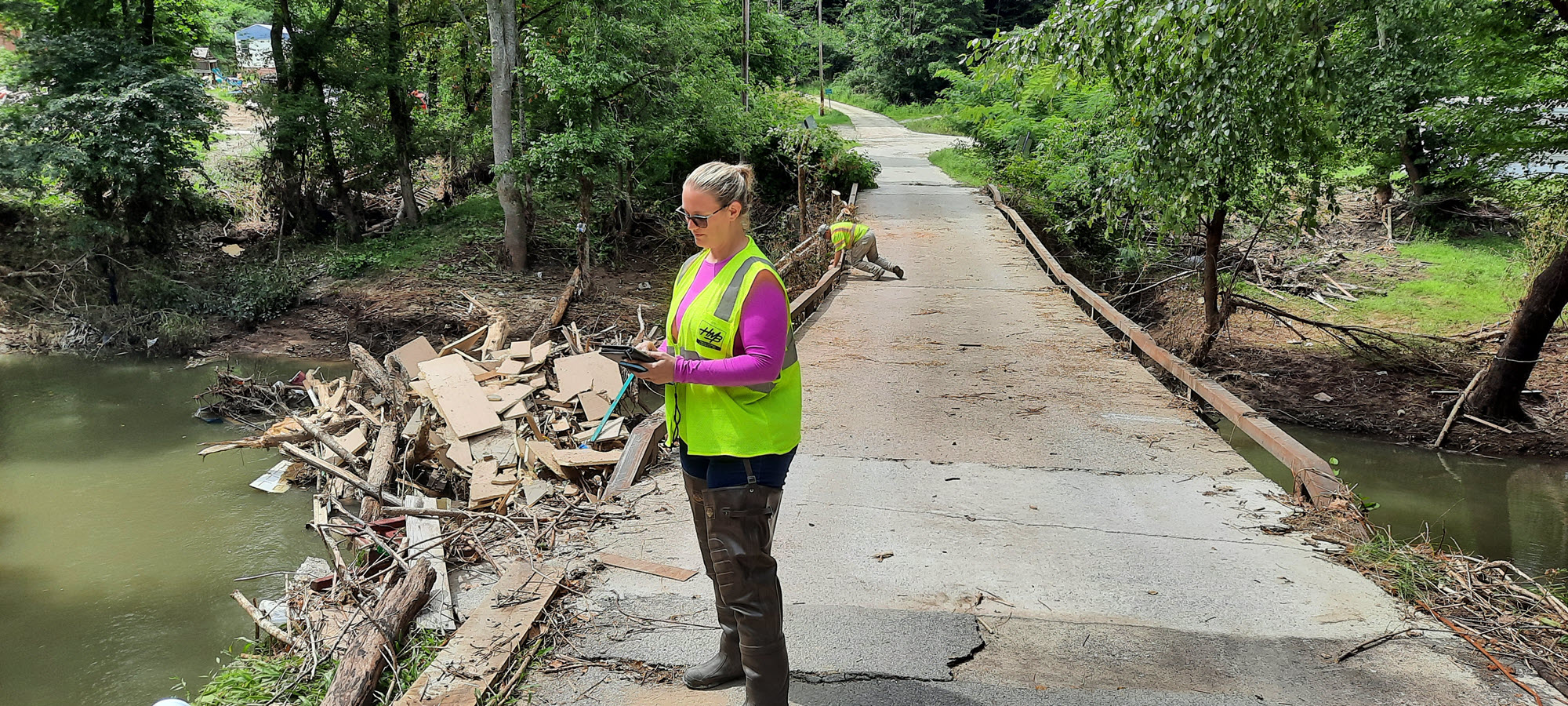 HMB's Structural Engineer Lora Boller, PE, conducts an inspection of a damaged bridge in Letcher County. Volunteering to assist state and county officials helped expedite the recovery effort.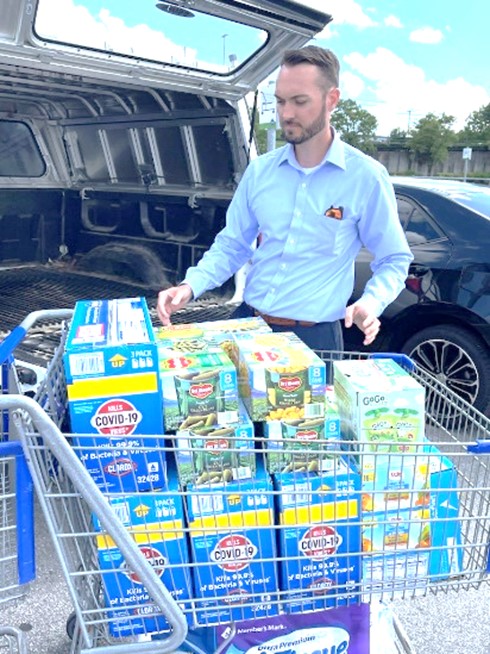 Struck by the amount of loss in the region, HMB's staff also helped the recovery effort through the purchase of food and basic supplies for displaced residents. Led by our Frankfort office staff, team members coordinated financial contributions as well as the logistical arrangements to purchase and deliver the goods to area support agencies.
Hope Southern Indiana Charity
HMB selected Hope Southern Indiana as the beneficiary of our annual giving initiative held each December. Through its social service programing, Hope Southern Indiana empowers individuals and families to reach a higher level of self-sufficiency while also assisting with emergency basic needs. Partnering with the City of New Albany to match HMB's donation, over $3,000 was raised in support of the agency's emergency support and food pantry programs.
Simon House Charity
Another beneficiary of HMB's annual giving initiative has been the Simon House Charity. Located in Frankfort, KY, the non-profit provides emergency shelter to homeless women who are pregnant, homeless families with children, and other homeless adults. It also provides other social services and referrals in collaboration with other agencies. The funds collected by HMB staff members were used to purchase holiday gifts and other essentials for children at the shelter.
MathCounts
Staff members from HMB have volunteered to support the MathCounts program, a middle school math education program sponsored by the Kentucky Engineering Foundation, Inc. in conjunction with the Kentucky Society of Professional Engineers. By assisting with the organization of the program and proctoring math exams, staff members support the program's mission to increase interest and involvement in mathematics and engineering.
Tennessee Tech Mentorship Program
HMB, being a proud employer of multiple Tennessee Technological University graduates, has had the privilege of partnering with the civil engineering senior design classes for graduating young engineers as mentors over the past several years. These classes last the duration of each spring and fall semester. During these mentoring opportunities, HMB was able to assign senior design project teams simplified, albeit challenging, versions of actual roadway design projects. The ability to meet with the civil engineering students' multiple times throughout the semester builds the perfect atmosphere for developing aspiring engineers and allows HMB personnel the opportunity to share valuable knowledge to the student engineers. By allowing students to experience the day‐to‐day life of an engineering consultant firsthand, they build practical experience to match with their academic lessons received at TTU.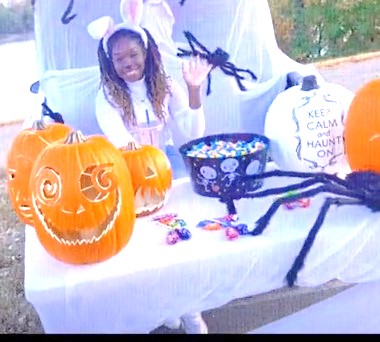 HMB's Briana Robertson offers candy to trick or treaters as part of HMB's entry in the City of New Albany's Trunk or Treat.  
Community Events
HMB staff members also participate in numerous community events throughout the year. These events include a wide range of activities such as career days with local schools, participation in community events like municipal trunk or treats, involvement in leadership programs, and neighborhood clean-ups.
If you'd like to suggest a community service opportunity for our team, please contact us.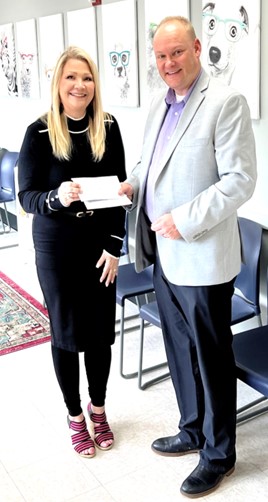 HMB's Regional Development Director, Adam Dickey, presents Hope Southern Indiana Executive Director Angela Graf contributions raised as part of HMB annual giving initiative.